Good taste doesn't exist. It is our taste. We have to be proud of it. — Franco Moschino (1950-1994).
Moschino is a high-end luxury Italian fashion brand well-known for being wonderfully colorful, eccentric, and often made with unusual materials.
Had it not been for the founder rejecting working for the family business, the Moschino brand we love and cherish today would simply not exist!
So, without further ado, let's dive into the fabulous world of Moschino with these eight marvelous Moschino facts.
Moschino was created in the 1980s.
The Moschino label was created in 1983 by Franco Moschino in Italy, and the headquarters are in Milan.
Franco Moschino was born on February 27, 1950, in the Lombardy region of Italy, which is around 13.7 miles (22km from Milan).
Franco Moschino sadly passed away on September 18, 1994, due to cardiac arrest. Franco had had abdominal cancer for some time, but nonetheless, his name lives on.
Today the creative director of the company is American fashion designer Jeremy Scott.
Franco Moschino almost worked at the family iron foundry business.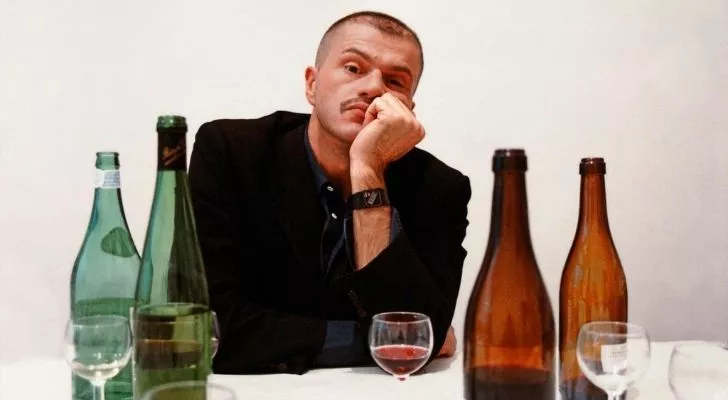 Franco loved going to the iron foundry that his family ran as a boy, and his parents had high hopes that he would one day go on to work there himself.
But Franco set his sights beyond the foundry and had a love for the fine arts, and always dreamed of becoming a painter.
With the pressure mounted on him to work at the foundry, Franco ran away from home in 1968 and enrolled himself in private art and fashion school in Milan called the Marangoni Institute.
Franco Moschino worked for Versace!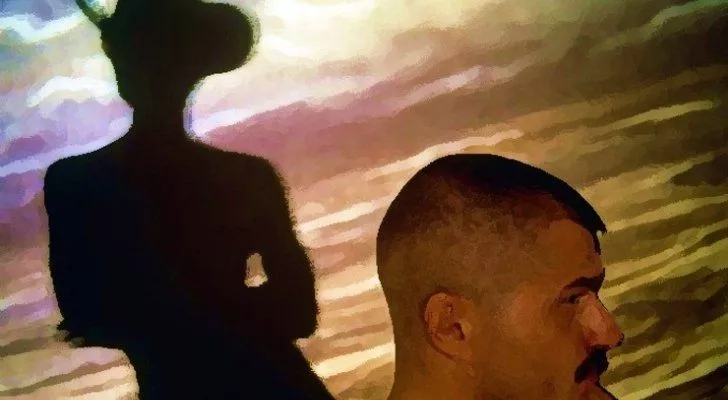 It's true. While he was studying, Franco worked for various magazines and fashion houses to help pay his way.
He graduated from the Marangoni Institute in 1971 and took on a new adventurous role for Gianni Versace, who founded the beloved fashion house Versace.
Franco worked with Versace for over six years, and not long after – Moschino was founded!
There are over 150 Moschino Boutiques around the world.
Down to the company's incredible success, it's not hard to believe that Moschino Boutiques can be found everywhere.
You're never going to be too far away from having one near you.
That's because there are over 150 of them spread across the world!
Some of the locations include; London, Paris, Madrid, New York, Dubai, Shanghai, Milan, and Tokyo.
Don't forget to drop by on your next travels. Why not treat yourself and become the envy of your friends?
Moschino had a collaboration with H&M.
On November 8, 2018, Moschino X H&M was launched, which saw swarms of fashion-loving savvy shoppers fill stores and caused their website to crash!
Their range was created by Moschino creative director Jeremy Scott and was inspired by pop culture over the last century.
The designs were incredibly bold, to say the least, and included Micky and Minnie Mouse, MTV, CDs, jackets, T-shirts, long socks, handbags, and a plethora of other must-have clothes and accessories.
There was something for everyone, even a cute little Moschino jacket for your pooch!
Celebrities love Moschino – and so do we!
In Madonna 2015, Madonna released her music video for "B***h I'm Madonna."
The video was filmed live in one shooting and featured several Moschino articles, including a bright pink top, a skirt, and a leather Moschino cap.
Madonna has always been a big fan of Moschino, and she is even friends with Jeremy Scott himself.
She even attended the Moschino X H&M party in 2018 with him at one of the most elegant private clubs in the world called Annabel's in London.
On December 23, 1990, the late Princess Diana wore a red, white, and black houndstooth Moschino suit when taking Prince William to the christening of his cousin.
This suit later inspired Kate Middleton to wear a strikingly similar red and white coat designed by Catherine Walker during her royal tour of Sweden and Norway in 2018.
Moschino's famous bear logo originated way back in 1988!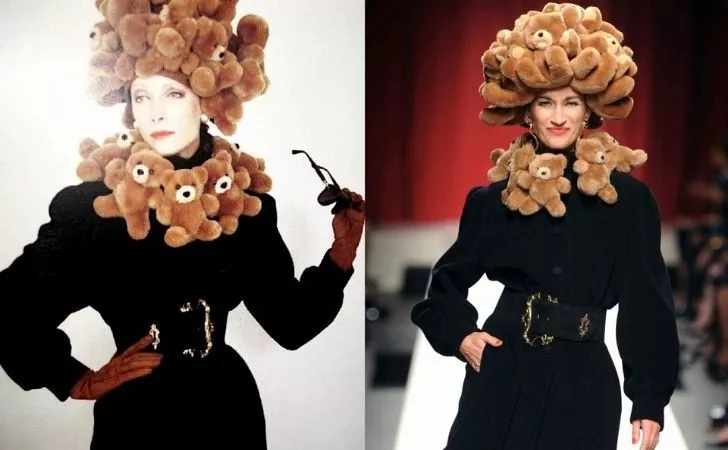 Surprisingly, the famous Moschino bear that we all adore was part of Franco's earliest creations.
In 1988 Moschino's fall line featured a model in a black dress with a collar and a hat made entirely of little bears.
Today, the little bear logo can be found on many of Moschino's lines, including the cute and cuddly UnderBEAR range.
It's fair to say that he's here to stay!
The Love Moschino brand is really all about love.
We've all seen the Love Moschino brand, but perhaps we don't all know where it came from.
This brand came about in 2008. Love Moschino is kind of like the fun and energetic younger sibling to Moschino.
Both men's and women's designs have been created under the brand, and they all keep in line with Moschino's usual style, but they add a whole-nother level to it.
That's because Love Moschino is all about love, empathy, peace, and unity.
These lines scream positivity with the creative use of symbols such as love hearts, peace signs, wild colors, and even blinging chains.
Another bonus – this line costs a little less, making it more accessible to the fashion-conscious but bank-broke customer.
It's crazy to think if Franco hadn't run away from home, Moschino would not be a part of the fashion world we know.
Franco had a vision beyond working at the family-run iron foundry and chased his dreams to become one of the most influential designers who ever lived.