You could argue that every holiday celebrates fashion indirectly.
After all, clothes, makeup, and accessories are classic gift choices for women, and holidays involve parties — which often means getting dolled up in your favorite outfit to share some laughs with family and friends.
There are a few holidays, though, that give us explicit direction to acknowledge our style, snap selfies, and talk about what we're wearing and how we're wearing it.
(Confession: I do that on the daily without waiting for the holiday.)
Read on for my four favorite random fashion holidays on the calendar.
National Sunglasses Day — June 27
The Vision Council founded National Sunglasses Day to bring attention to the importance of UV protection for your eyes.
Did you know that experts have linked UV exposure to some nasty eye conditions, like growths on the eye's surface and some types of cataracts?
It's true! But protection from those damaging rays is easy — just wear sunnies that offer 100% UV protection.
You'll be styled, protected, and in perfect form for National Sunglasses Day.
Join in the fun by posting a selfie of you in your shades and using #SunglassSelfie and #NationalSunglassesDay hashtags!
National Underwear Day — August 5
Online underwear retailer Freshpair founded National Underwear day in 2003.
Back then, Freshpair was only three years into its existence — a mere tween in ecommerce years — delivering underwear campus-wide to the University of Maryland.
A year later, the company settled into its New York offices and cast its net well past the university.
Today, Freshpair is a leader in men's undergarments and women's lingerie.
This holiday is a body-positive one, meaning any celebration must include some self-love for your shape.
You can also add some new, confidence-boosting pieces to your underwear collection.
According to Instagram, you can also observe #NationalUnderwearDay by putting a cute pair of panties on your pet.
Or, go all out and run a 5K in your undies with your friends.
National Hat Day — January 15
For those of you with a hat fetish, January 15 is your day.
National Hat Day has a mysterious history, in that its origin seems to be unknown. But who cares?
Pull out those fascinators, fedoras and even those fez hats to celebrate this day of hats!
You might even wear a different hat every hour, or more than one hat at a time.
Or, if you prefer a more mainstream look, wear your favorite team's branded baseball cap. Anything goes!
You'll see fellow hat lovers on social media using #NationalHatDay.
National Dress Day — March 6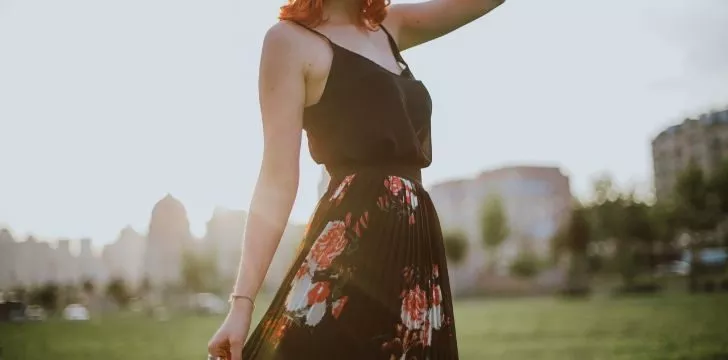 Fashion design Ashley Lauren founded National Dress Day as a tribute to our favorite "dress memories" — that is, the dresses we wore on life's most important occasions.
Maybe it was New Year's Eve 1999, when you slid into that slinky black velvet number.
Or maybe it was a random Tuesday in 2005, when you wore your first power dress to land the job of a lifetime.
Whatever memories you have associated with the dresses in your life, indulge in reliving them on March 6 each year.
Wear your best dress and post your pics using hashtag #NationalDressDay.
You can also follow the official National Dress Day account on Instagram @NationalDressDay.