The festive season rolls around, and by the time December starts, it's easy to spot many Christmas sweaters when you're out and about.
Love them or hate them, there's no denying that a jazzy Christmas sweater is enough to put anyone in the holiday mood.
Some people think ugly Christmas sweaters are beautiful in every way, while others are less than impressed by the appearance of these bold items.
Wearing a Christmas sweater can make anyone look like they're up for a good time, especially if you're used to dressing up in a suit or smart attire for the rest of the year.
What is National Ugly Christmas Sweater Day?
National Ugly Christmas Sweater Day is a day for everybody to forget about their problems and non-festive worries.
Whether you're going to the office, to college or to an important meeting, the idea is that everybody wears a sweater that simply oozes Christmas.
With all the stress of buying presents for your friends and family, cooking the perfect roast dinner and making sure the house looks as good as possible, it's nice to think there's a day when you put all that aside and snuggle into an ugly Christmas sweater.
When is National Ugly Christmas Sweater Day?
The best day of the week is arguably Friday – the weekend has just begun and you're not going to be doing anything for two whole days!
It's no coincidence that National Ugly Christmas Sweater Day always happens on a Friday.
It takes place on the third Friday of December, which means the date changes every year.
Walk into work in the morning showing off your favorite Christmas sweater, and you'll make everyone smile for the entire day.
Where can I get an ugly Christmas sweater?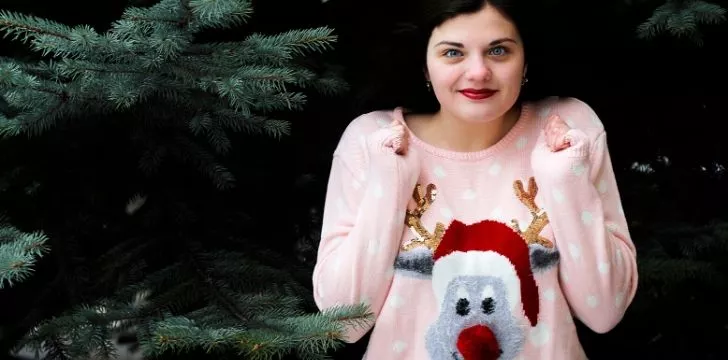 There are many popular places which sell Christmas sweaters the whole year round, and you can pick up a great bargain on Amazon or eBay.
You can also shop at places which cater specifically to those looking for sweaters, such as The Sweater Store.
If you want to go all the way and find somewhere which specializes in not just sweaters, but specifically ugly Christmas sweaters, then check out Ultimate Ugly Christmas or Ugly Christmas Sweater Party.
You're sure to find something perfect!
How long do I need to wear my sweater?
In order to fully participate in National Ugly Christmas Sweater Day, you'll need to put your Christmas sweater on in the morning and take it off only when it's time to go to bed.
You're not allowed to have any breaks throughout the day, and if you've got any special plans – well, the sweater will have to go with you.
Friend's party that same night?
Uh oh, you can't get changed so let's hope it's nowhere too fancy!
Why not raise some money or make National Ugly Christmas Sweater Day fun for everyone?
Let everyone at work know that they need to come to work in their ugliest Christmas sweater.
It's up to you which rules you create, but you could get everyone who fails to wear a Christmas sweater to donate $10 to your chosen charity.
Alternatively, those who do wear Christmas sweaters could donate the money instead as the price to pay for dressing in comfort all day long in the office.
Go on a sponsored group walk or fundraising walk to raise money for a charity close to your heart, or try something more challenging while wearing your Christmas sweater, for example, a bungee jump or skydive.
The official charity supported by National Ugly Christmas Sweater Day is Save the Children.
If you don't want to do any fundraising, throw a Christmas sweater party and invite your friends and family – but only if they're wearing a Christmas sweater!
Other ideas for National Ugly Christmas Sweater Day
If you have children, suggest to their school in advance that everyone should dress in ugly Christmas sweaters – staff and students alike.
Not only will this make the whole school feel very festive, but most schools finish for Christmas around the third Friday of December, so everyone will be very excited and ready to truly embrace the spirit of the holidays.
A Christmas sweater games night is a great idea for those of all ages.
For an all-adult night, get some drinks in and make up your own Christmas-themed drinking games.
For children, plan a treasure hunt or have a Christmas cookie-making session in the kitchen.
In the past, companies such as Mariposa Cruises have gotten on board with National Ugly Christmas Sweater Day, and in 2015, they held informal National Ugly Christmas Sweater cocktail cruises in Toronto, complete with a Santa photo booth and guests showing off their sweaters.
There's no better way to immerse yourself in the festive season than putting on your Christmas sweater a few days before December 25th.
If you don't have one already, go out and buy one!