Pokémon Go has taken the world by storm, and many players simply can't get enough of it.
You've downloaded the app and found the best strategies for catching Pokémon, but maybe it's time for a new outfit too?
Perfect for the wardrobe of any Pokémon fan, here are some snazzy items you might want to wear while playing.
"I'm Just Here for the Pokéstop" T-shirt
If you want everybody to know exactly what you're doing when playing Pokémon Go, it doesn't get much better than this t-shirt.
Its graphical design makes it suitable for all adults, and it comes in both men's & women's sizes.
Whether you're looking for a gift for a Pokémon-crazy teen or you're shopping around as a result of 90s nostalgia, this shirt ticks all the boxes.
Pokémon Go Hat
This cap is ideal if you want something Pokémon-related but not full of bright colors.
You can't play Pokémon Go without a hat! Well, you can, but the moment that sun comes out; you'll be squinting to see your screen.
This Pokémon Go hat comes in three different styles, but there's only one for you.
Choose your team, Valor, Mystic, or Instinct, and start your Pokémon Go adventures proudly supporting your team.
Even when you're not playing Pokémon Go, it's a handy accessory to have!
Pikachu Sweatpants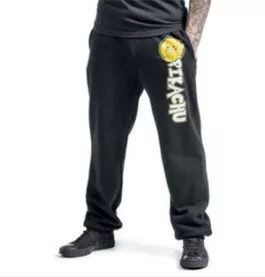 When you're not playing Pokémon Go, these sweatpants are great for relaxing around the house or even going to the gym (the real one!).
While you're out and about, they will keep you warm during the cooler days and provide excellent comfort whether you're walking, jogging or running at top speed.
These sweatpants have a Pikachu featured on one side, and they are available in sizes XS to XL.
Yellow Nike Pokémon Shoes
If you've managed to get yourself a pair of trousers and a t-shirt for your Pokémon adventures, you need a good pair of shoes too.
Since Pokémon Go involves plenty of walking, comfortable and practical shoes are a must.
Available only in adult sizes, these Pikachu Nike trainers come in yellow, with black laces.
With a mini Pikachu on each shoe, they'll be ideal for all your sessions of Pokémon Go and will also match the sweatpants featured above.
Poké Ball Socks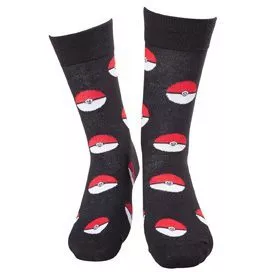 Why have plain black socks when you can get Poké Ball socks?
You've got a great pair of shoes – now you need the socks to match!
These Poké Ball socks are cozy, comfortable, and match with all the items featured on this page.
These can be sent out to you on the day you order them, so you don't have to wait any longer before putting them on and catching some more Pokémon!
Pokémon Go Plus Watch
This accessory isn't just a regular watch with a Pokémon-themed design.
It notifies you of nearby Pokémon and any events which are happening in the game.
Put it around your wrist, connect it to your smartphone via Bluetooth, and relax knowing that you'll get a vibration if there is anything exciting about to happen.
It uses low energy so you don't need to worry about your phone running out of battery, and you don't have to keep checking your smartphone to know what's going on.
Handmade Poké Ball Earrings
Wear these as part of your full Pokémon outfit, or save them for a costume party or festival.
Wherever you wear them, they're sure to pick up plenty of comments and compliments.
Entirely handmade, they can be shipped anywhere in the world so you can order them no matter which country you're in.
Pokémon Go Inspired Bag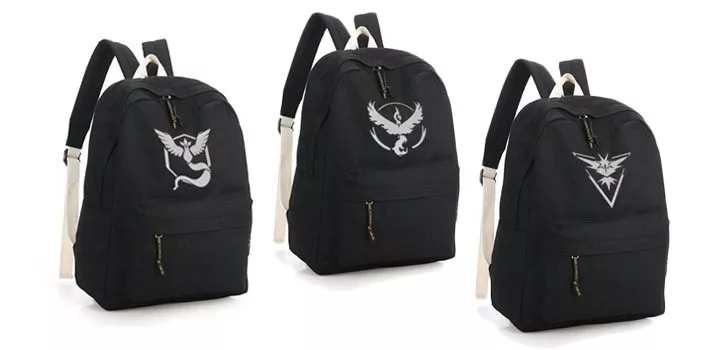 If you're out for the day playing Pokémon Go, you'll need to take a bottle of water and some food along with you, not to mention the power banks you need to keep your phone alive.
This Pokémon Go inspired canvas bag is perfect no matter what team you are, you can choose team Instinct, Valor, or Mystic.
So there you have it, our favorite selection of clothing & accessories perfect for when you're on the Go.
If you have any other ideas for the perfect clothing items, let us know… honestly, we'd love to see what you all wear whilst you walk with your Pokémon.