A job interview is your first chance to make a great impression on your potential future employer.
If you've never had a job interview before, the first thing to remember is that the interviewer wants to meet you.
You should dress as yourself, behave as yourself, and answer their questions honestly from your own personal perspective.
However, that isn't to say that you should't put in a little extra effort into your outfit for the occasion.
Even if you're 50 years old with years of experience with job interviews, it doesn't hurt to get some new fashion tips.
Dress professionally.
No matter what the job position you're interviewing for, you should dress professionally.
Even if it's your first job interview and you're 16 years old, dressing in a casual manner will make it look as though you don't care.
For most job interviews, black pants with a formal blouse and cardigan/jacket will do.
If the position is higher rather than lower, you should opt for a jacket rather than a cardigan.
If you're younger and applying for your first job at a supermarket or shop, a black cardigan will look smart enough.
Whatever your age or the job you're applying for, a pair of black pants is an essential for your wardrobe.
You never know when you might need them, but they can transform many outfits from informal to formal in a matter of minutes.
Even if you want a more casual look for your interview, it's easy to dress down a pair of smart black pants.
Many women prefer skirts, however, and these can look equally professional.
Choose a plain black skirt with a small split (or no split) and match it with different colors to find an outfit you like.
Sheer and chiffon materials can be worn, but be very careful that your interviewers aren't going to see your underwear through your shirt/blouse.
Wear a tank top underneath if you're worried about showing off too much, or choose more opaque materials such as cotton or polyester.
Choose the colors well.
Avoid bold patterns and striking colors.
Think about what you might wear to a business meeting. Black, navy, maroon and dark green are all possibilities when choosing clothes for a job interview.
If you're wearing pants and a jacket with a blouse, don't be afraid to choose a lighter blouse with a darker suit.
When you go out shopping, choose colors that you personally like.
If you hate the color black, don't choose a black outfit just because you think your interviewer will like it.
You'll only feel less confident about what you're wearing, which might show in your interview.
Certain colors work really well together, so experiment and find out what works for you.
You may discover that your skin tone really suits the color blue, or perhaps maroon just looks awful when you try it on.
Colors that work well together include beige and navy, white and navy or green and black, but it's not limited to just those combinations.
Necklines and hemlines!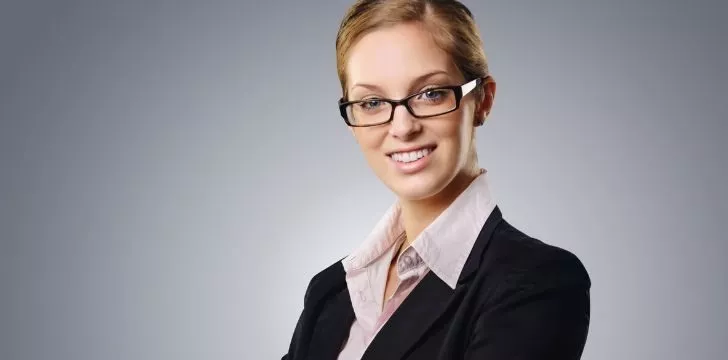 In order to maintain a professional appearance, be careful when choosing the necklines and hemlines on your outfit.
You should show little or no cleavage to your interviewer (despite what anybody tells you!), and the hemline of your skirt/dress should be no shorter than just above the knee.
When you sit down, be conscious of keeping your legs together, and avoid crossing your legs completely (cross your ankles instead).
If you choose a skirt or dress with a split, go for a small one rather than a long split all the way up.
Style your hair.
Make sure your hair is washed for your interview, and style it a little if you normally do.
A tidy ponytail or bun will work best if you don't want to wear your hair down, or you could add a few loose curls or straighten it out if you choose.
Avoid big hairstyles and definitely stay away from large hair pieces and accessories, since this doesn't look very professional and could put the employer off.
Smell good (but don't use too much!)
When you use perfume and products on your hair/body, you might not be able to smell it after 15 minutes, but everybody else can.
That's only because your nose has gotten used to the smell of it, whereas it's a new scent to those you encounter.
Use 4-5 sprays of perfumes on the key areas (wrists, neck and chest), and don't go too crazy with the hair spray either.
Strong overpowering scents will instantly create a bad impression, and nobody wants their office to smell like a salon!
Walk into your job interview with confidence and pride – the perfect oufit will help you to feel on top of the world as you fight for that position!